http://Outlook 2019: Battling Bots and solving problems: KC's engineering program in growth mode
Below is an excerpt from a recent article in The Sharon Herald – click on the link above to read the entire article
Students in Kennedy Catholic's engineering program made this electric guitar with a computer numerical control cutting device.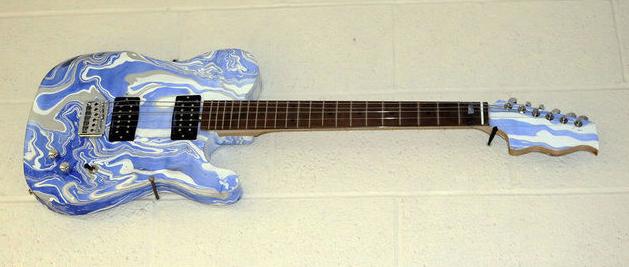 "Kennedy Catholic's in-progress STEAM wing includes a maker space that looks like a grandpa's workshop, with saws, hammers and screwdrivers mounted on the wall. After the computers, computer numerical control cutter and a 3-D printer, McMahon acknowledges that the tools are relatively low-tech.
And they will always be necessary.
"You'll never get away from your hand tools," McMahon said. "You can't do everything with a CNC machine. You can't do everything with a 3-D printer."
While the academic engineering curriculum is a one-year program, McMahon said he hopes eventually to offer the courses in grades 9 through 12, with an expansion next year after being accepted into Amazon Future Engineers course, which will include instruction in the Python programming language.
As part of the school's emphasis on technology, Kennedy Catholic is converting part of the former middle school into a space for STEAM — an acronym representing science, technology, engineering, art and mathematics — education.
McMahon said Kennedy's engineering and robotics program pulls all of those elements together, with instruction and practice on three-dimensional drafting, computer-aided and by hand, robotics, and electronics."