Sister Margaret Pellerite at Kennedy Catholic High School has been feeding the Shenango Valley for more than 40 years at Thanksgiving time.
Her annual Thanksgiving Food Drive feeds more than 200 families, which equates to almost 1,000 people every year.
This year, the program got some help from a KC alum.
Leah Lombardi, now a junior at Gannon University, graduated from Kennedy in 2019 and returned to her alma mater earlier this month to hand Sister Margaret a check from her sorority for more than $1,500.
"You've always inspired me to live out the school motto, Christo Servire: to serve Christ," Lombardi told Sister Margaret. "One of my biggest goals is that I would give back to you and the Action Club."
Lombardi is vice president of community relations for Alpha Sigma Tau at Gannon. In that position, she oversees the sorority's service and community projects. When applying for the position, she had to list three goals, and helping Sister Margaret's Thanksgiving Food Drive topped her list.
The sorority advertised on social media and organized an online donation site that ran for about a month.
"Sister Margaret is such an inspiration," Lombardi said.
Sister Margaret was moved to tears.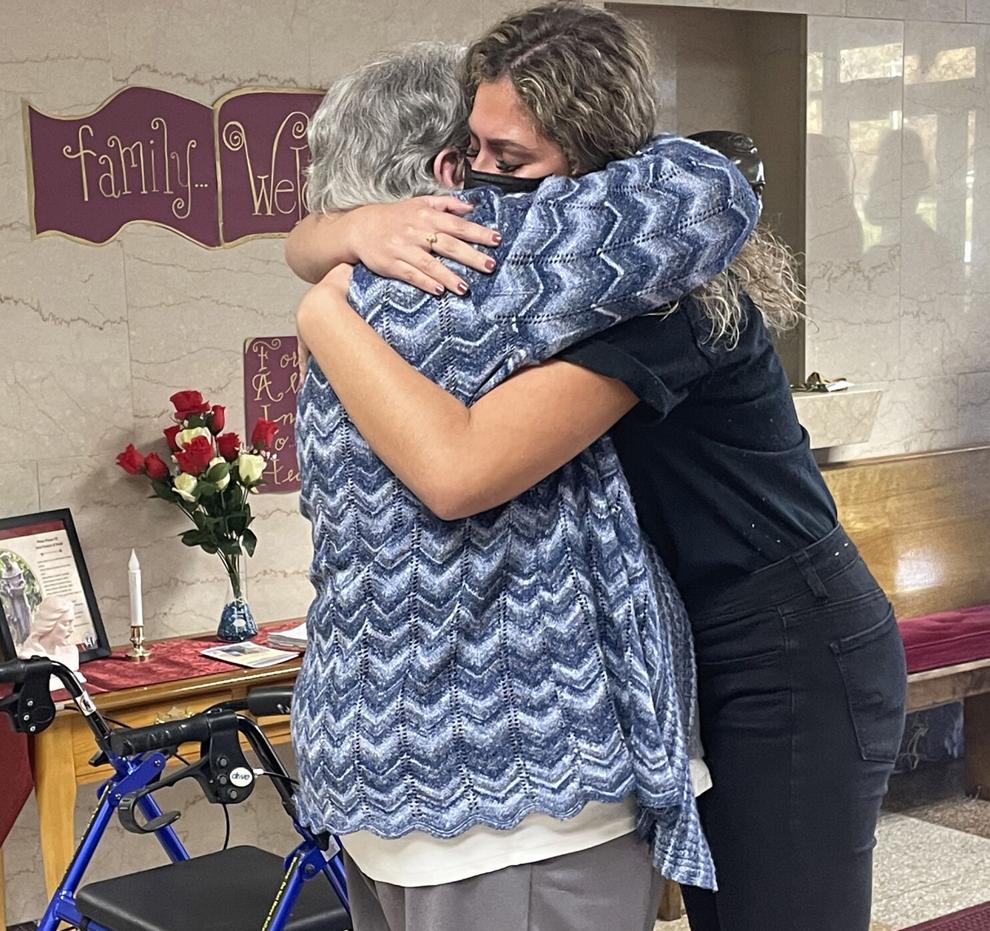 "The school's motto, Christo Servire, has been used to work with the kids to get them along the line of thinking of doing for others," Sister Margaret said. "As they work through here, our prayer would be that they continue within their adult life."
Sister Margaret was overcome with emotion after being handed the check.
"Something like this, it's not anything I would expect. Ever," she said. "But I'm most grateful because it helps us reach out and do as much as we can with the programs we have."
And she gave all the credit for the drive to the kids and families of the Kennedy Catholic Family of Schools.
"It's not me. It's the kids and their families that are feeding the people," Sister Margaret said. "And the grade school kids get really excited."
Students at the three schools are tasked with bringing in non-perishable canned goods, then for fruits and vegetables, families will be given a $10 gift certificate for Aldi's.
Every year, Sister Margaret and her helpers take phone calls from families in need. On the Tuesday before Thanksgiving, Kennedy Catholic's high school gymnasium is filled with food that the high school Action Club organizes and packages.
Sister Margaret mans the door while families check in, and Action Club members assist them with getting the recipients' bundles to their vehicles.
Lombardi took part in this process for the four years she attended Kennedy.
"I think it's pretty remarkable," Lombardi said. "What really stuck with me is just seeing how something so little can make such a big impact on someone. That stuck with me all my years here and I knew that I wanted to continue serving others because I got to see first-hand what Sister did and I wanted to be a part of that."
Sister Margaret said she was very grateful for what Lombardi had accomplished through her sorority.
"When something like this happens, when one of these kids come back, you know you're on the right track," Sister Margaret said through tears. "You know you're teaching them how to live Christo Servire, to serve Christ, and the only way we can serve Christ here is to help our neighbor."
Donors can take money or non-perishable Thanksgiving food to Kennedy Catholic High School, 2120 Shenango Valley Freeway, Hermitage.
Follow Melissa Klaric on twitter @HeraldKlaric or email her at mklaric@sharonherald.com